Katie
Katie was my very first purebred cat ever! She's a bengal and I purchased her after many years of saving, studying and preperation. Unfortunately, things didn't go as smoothly as I'd planned, and I made some mistakes during my purchasing process. Mistakes I should've been ready to recognize and avoid. I just got too excited that my dream was going to come true. If you want to know more about my bad buying experience go here.
Katie is a character, and although, she didn't fulfill my dreams of a bengal cat, she is still quite striking, and has the best purrsonality around. I decided to share some of her antics and so Katie has her very own website! Check it out!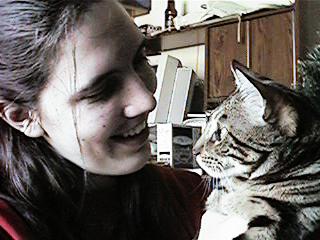 Skimbleshanks was purchased at the same time as Katie. They aren't related, but I got them from the same breeder and the saga of the bad buying experience continued and got worse with him. He is a purebred marbled bengal, and is growing to be quite the large handsome boy! He is a neverending source of amusement as well, and so he needed his own page to keep up with Katie. My sister agreed to write and maintain a webpage for him, so he could have his own adventures on line as well. Check out his page too!