The Last Unicorn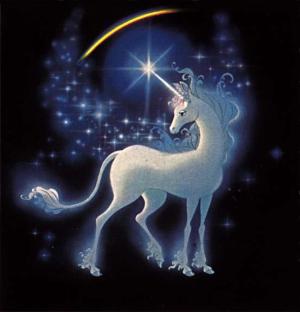 Please check back as I have not yet finished this page.


I have loved The Last Unicorn from the first time I saw the movie, to the last time I opened the novel. It is one of the very best fantasy stories ever written, one of the most beautiful and poignant innocent love stories ever made, and the animated movie gave way to some of the prettiest music I've ever heard. This is my small shrine to celebrate that.


The movie opens with pictures based on real tapestries from the Hunt of the Unicorn series. Picture of the real tapestry.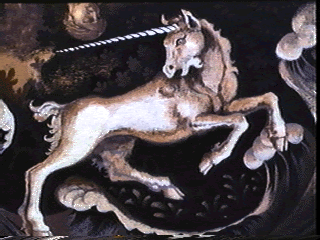 Here are the lyrics to the songs we heard from the animated movie of The Last Unicorn.
The Last Unicorn
When the last eagle flies
Over the last crumbling mountain

And the last lion roars
At the last dusty fountain
In the shadow of the forest
Though she may be old and worn
They will stare unbelieving
At the Last Unicorn
When the first breath of winter
Though the flowers is icing
And you look to the north
And a pale moon is rising
And it seems like all is dying
And would leave the world to mourn
In the distance hear her laughter
It's the Last Unicorn
I'm alive... I'm alive

When the last moon is cast
Over the last star of morning
And the future is past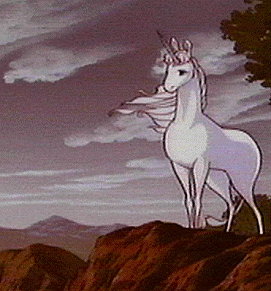 Without even a last desperate warning
Then look into the sky where through
The clouds a path is formed
Look and see her how she sparkles
It's the Last Unicorn
I'm alive... I'm alive.


Man's Road
Horizon rising up to meet the purple dawn
Dust demon, screaming, bring an eagle to lead me on
For in my heart I carry such a heavy load
Here I am, on Man's Road
Walking man's road
I'm hungry, weary, but I cannot lay me down
The rain comes, dreary, but there's no shelter I have found
It will be a long time till I find my abode
Here I am, on Man's road
Walking man's road


Man's Road(Reprise)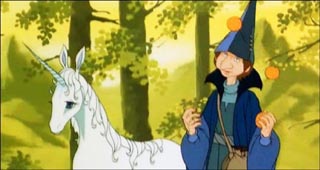 Moon rising, disguising lonely streets in gay displays
The stars fade, the nightshade, closing makes the world afraid
It waits in silence for the sky to explode
Here I am on Man's road
Walking man's road


In the Sea
In the sea
The fish have learned to fly
On a moonlit night
On wings of silver
As the enchanted stars
Sail serenely by
Do they know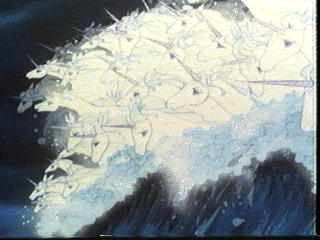 Where do unicorns go
Where winged horses fly
Narwhals lost at sea
And never seen again

Go
Go and ask the magpie
Where do unicorns go

In the trees
The birds have learned to speak
Many colored
They keep their secrets
In a parade of clouds
Playing hide and seek

Do they know
Where do unicorns go
Where winged horses fly
Narwhals lost at sea
And never seen again

Does myth
And mystery lie
Where the unicorns go


Now That I'm a Woman
Once, I can't remember
I was, long ago, someone strange
I was innocent and wise
And full of pain
Now that I'm a woman
Everything is strange

Once, when I was searching
Somewhere out of reach
Far away
In a place I could not find
Nor heart obey

Now that I'm a woman
Everything is changed
Everything is changed
Everything has changed


That's All I've Got To Say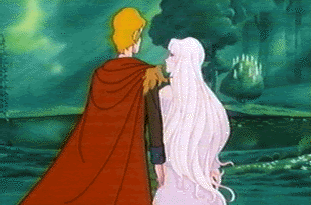 I've had time to write a book
About the way you act and look
But I haven't got a paragraph
Words are always getting in my way
Anyway, I love you
That's all I have to tell you
That's all I've got to say
And now, I'd like to make a speech
About the love that touches each
But stumbling, I would make you laugh
I feel as though my tongue were made of clay
Anyway, I love you
That's all I have to tell you

I'm not a man of poetry
Music isn't one with me
It runs from me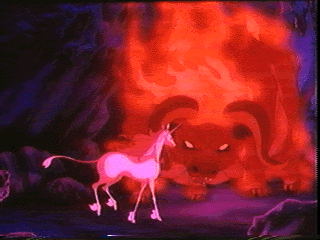 It runs from me

And I tried to write a symphony
(Once when I was searching)
But I lost the melody
(Somewhere out of reach)
Alas I only finished half
(Far away)
And finish I suppose I never may
(In a place I could not find)
Anyway, I love you
(Nor heart obey)
That's all I have to tell you
(Now that I'm a woman)
That's all I've got to say
(Now I know the way)
That's all I've got to say
(Now I know the way)
That's all I've got to say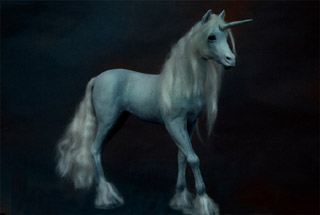 If you want to check out the new movie site, please go to:
http://www.the-last-unicorn.net




back